The new book "This Will Not Pass," from New York Times writers Jonathan Martin and Alex Burns, is full of interesting facts but one really stands out The Daily Wire reports.
A new report is shedding light on the Vice President and where the unpopular politician is seeking political advice.
Vice President Harris is seeking the counsel of former United States Representative and current co-host of "Morning Joe," Joe Scarborough.
Scarborough, a former Republican, is now an adviser to the vice president.
That is how bad things have gotten apparently.
Scarborough isn't the only one either, Kamala seems to be reeling as she seeks advice from those outside of her circle, "Harris began seeking out advice from beyond her inner circle, taking counsel from longtime veterans of the Washington scene like Rahm Emanuel, the Chicago mayor-turned-ambassador to Japan, and Joe Scarborough, the congressman-turned-MSNBC star."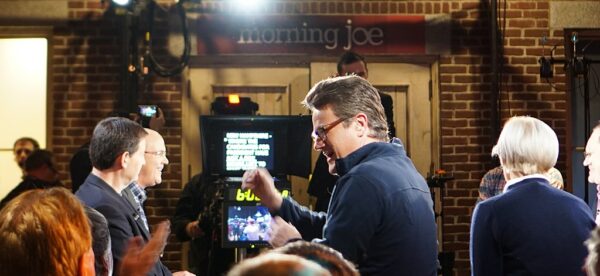 Kamala has had a tough run as the most unpopular vice president in history, even as her boss commits gaffe after gaffe after gaffe.
The unpopularity, 28% approval in a November poll, left her isolated, as The Washington Free Beacon notes, "The authors note that by the end of President Joe Biden's first year in office Harris was 'as politically isolated as she had ever been,' and 'few Democrats had confidence' in her ability to be the party's standard bearer in 2024 or beyond… As a result, Harris has grown 'impatient with her own aides,' whom she blamed for 'letting her down.' The VP even 'initiated an audit of her office to make it function better.'"
Kamala has also been known as a bad manager and recently reports of staffers jumping the Kamala canoe have permeated the news.
Adding insult to injury, her Deputy Press Secretary Sabrina Singh left for the Defense Department, The New York Post reports.
[READ NEXT: Kamala Laughs at Refugees]