The Capitol was evacuated on Wednesday afternoon when an unknown aircraft entered protected airspace in Washington DC.
The Wall Street Journal reports that the unknown aircraft was actually an Army aircraft carrying the Army Golden Knights parachute team who were jumping into the Washington Nationals baseball team's stadium for military appreciation night.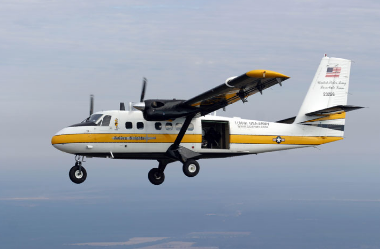 It appears that the military, the Federal Aviation Administration, or the Washington Nationals did not appraise the Capitol police of the event.
Shortly after 6:30 p.m. ET on Wednesday, Capitol Police sent out an alert to evacuate the area. About 20 minutes later, they tweeted a follow-up message saying the Capitol "was evacuated out of an abundance of caution this evening. There is no threat at the Capitol."

Officials said the false alarm stemmed from confusion over a planned event with the Golden Knights, the Army's parachute-demonstration team, at Nationals Park, and what appeared to be a lack of coordination between different parts of the federal government. Before the all-clear, some baffled D.C. residents posted photographs of far-off people appearing to parachute into the city.

House Speaker Nancy Pelosi (D., Calif.) praised the Capitol Police for their quick action and placed the blame on the Federal Aviation Administration, saying its "apparent failure to notify Capitol Police of the preplanned flyover…is outrageous and inexcusable."
Now all of the government agencies who failed are going to investigate themselves on why they messed up.
The FAA stated, "takes its role in protecting the national airspace seriously and will conduct a thorough and expeditious review of the events this evening."
And the Army followed up, "We are reviewing all aspects of the event to ensure all procedures were followed appropriately to coordinate both the flight and the parachute demonstration."
Congress is in recess this week so the Capitol was mostly empty and many legislators were in their home districts.
[READ MORE: Former Fox News Star Causes Airport Mayhem]